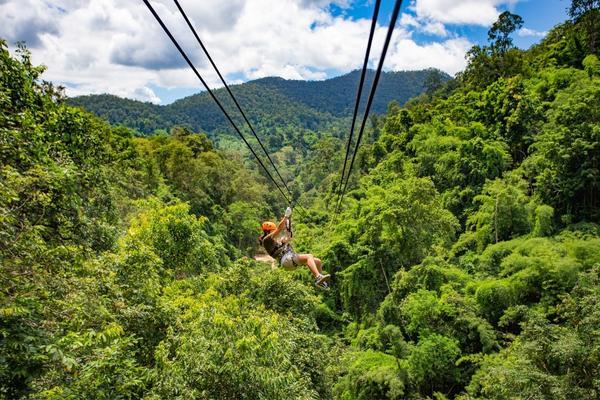 Experience an unforgettable rainforest adventure with our two thrilling ziplining options: the Hacienda Baru Tour, where you can explore and learn about the vibrant tropical rainforest, or the Osa Canopy Tour, with longer and faster ziplines for the ultimate adrenaline rush.
Location: Dominical & Ciudad Cortes, 25 Minutes from Uvita
Duration: 2-3 hours
Start: 8 am – 11 am
Max. Weight: 118kg (260 lb)
Cost: $76.00 per person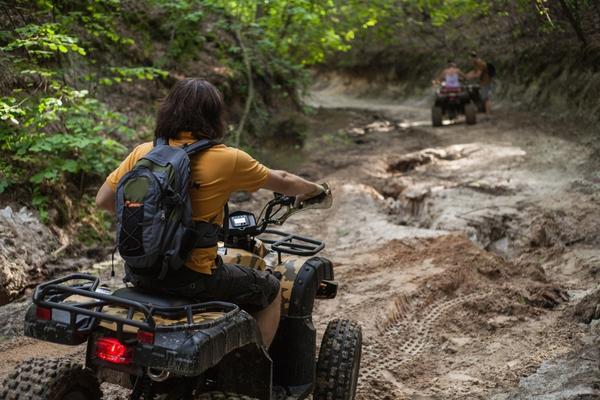 Embark on an exhilarating 4×4 adventure that takes you through multiple mountain ranges and deep into the jungle, offering breathtaking views of the ocean and valleys. Experience the thrill of stream crossings and pass by coffee and banana plantations on the way. During a refreshing pitstop at a beautiful waterfall, savor some delicious local fruits before making your way back to Uvita.
Location: Uvita Mountains
Duration: 5 hours
Start: 9:00 am
Cost: Single ATV $150 pp/ Two Seater Side by Side $230 pp
RAPELLING / CANYONING TOUR
Feel the rush of descending through multiple cascading waterfalls in the heart of the Costa Rican tropical forest with our expert guides. Each waterfall presents a new challenge, culminating in a heart-pumping 90-degree descent that's not for the faint of heart. But don't worry, our certified guides have the safest equipment to ensure your adventure is both exhilarating and secure. Along the way, take in the stunning natural surroundings and crystal-clear water. It's an experience you won't soon forget!
Location: Varies (Ask Front Desk)
Duration: 5 hours
Start: Varies (Ask Front Desk)
Cost: $100 pp
HORSEBACK RIDING AT THE BEACH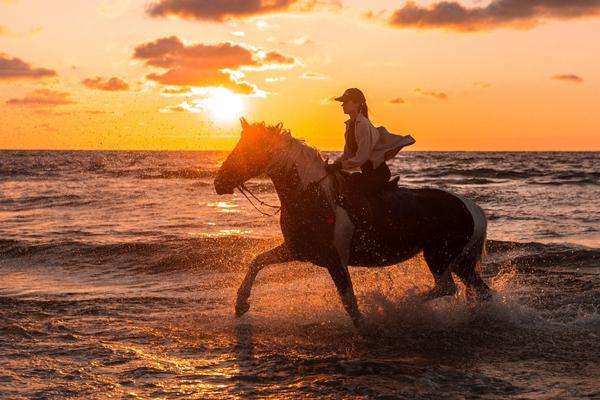 Saddle up and experience the beauty of the Costa Rican landscape on horseback. Enjoy approximately 2 hours of leisurely riding through pastures and forests, culminating in a relaxing visit to the refreshing waterfall. For those seeking a romantic or memorable experience, sunset horseback rides are also available along palm-fringed Playa Hermosa beach. Watch the sun dip below the horizon while riding with an authentic cowboy and well-trained horses. Whether you're an experienced rider or a novice, this dreamy ride through jungle trails and across pristine beaches is not to be missed.
Location: Hermosa Beach and Forest
Duration: 2-3 hours
Start: 4:00 pm
Cost: $65 pp
Your Unforgettable Costa Rica Vacation Awaits
Book directly to get our best price guarantee and lock in free goodies. 600mts East of BCR Bank, Uvita, Costa Rica
60504
+506 8334-9437
reservationswhaletailhotel@gmail.com