Coworking Spaces Nestled In The Jungle
Boost Your Creativity and Ideas
Need a little quite time?
We have a full facility for you to enjoy different CoWorking environments. Comfy seating nestled into the forest, terraces overlooking the babbling stream, desks for the serious tasks, and conference rooms for those important calls!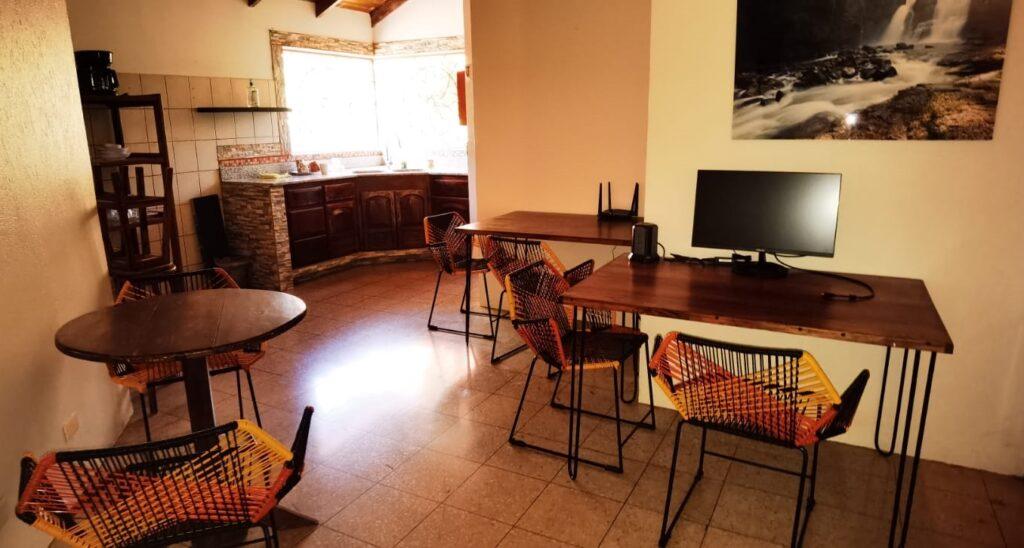 Sharing Ideas
The open spaces allow our hotel guests to get to know each other and share ideas. This area is all yours as part of Whale Tail Hotel amenities!
Private Spaces
We offer private spaces to those who need a little more privacy. We can provide extra monitors and other things you may need for those creative moments.
Our Prices:
Shared Spaces
Desk 1 in Community Room: Desk near the kitchen with high speed internet, lamp, tea-coffee station and sofa. Price: $10/8h day or $2/hour
Desk 2 in Community Room: Desk near the kitchen with high speed internet, lamp, tea-coffee station and sofa. Price: $10/8h day or $2/hour
Desk 4 in Community Terrace: Desk in the outdoor terrace with high speed internet, tea-coffee station and sofa. Price: $10/8h day or $2/hour
Private Spaces
Private Conference Room: Conferente table for 4 people inside private room, AC, high speed internet, 50" screen, roof fan, tea-coffee station and sofa. $10/hour or $50/8hday